ORVIETO AND CIVITA DI BAGNOREGIO TOUR
9:00 am Depart from your hotel or accommodation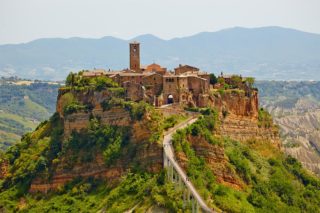 Arrive to Civita di Bagnoregio, a small hill town in Umbria. The town was built by Etruscans 2500 years ago. From Civita is a wonderful view of the beautiful landscape and of the bridge that connects the town to the rest of the world. The bridge was built in 1920 and the only way to enter the town is to cross the bridge. Erosion caused many changes during the centuries and the destiny of the town is to be desperate, for this reason it has the name "The dying city". In Civita you can see some beautiful architecture, an Etruscan tunnel, and you can also visit the Bonaventure Cave.
The tour continues with our visit to Orvieto. The town is situated at the top of an originally volcanic hill. Orvieto was built by Etruscans. In the middle of the city is the famous cathedral (Duomo) and there is an underground city almost 3000 years old .You can visit Il Pozzo di San Patrizio (the well of St. Patrick) built in 1527 by Sangallo il Giovane; it is 62 meters deep with 264 steps. On the Corso Cavour and Via Duomo you can find many typical shops with ceramics made by artisans.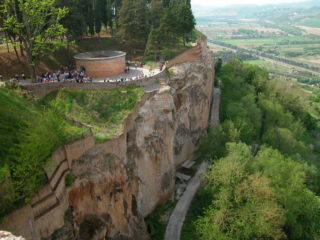 There are enoteca shops with Orvieto Classico white wine, and typical wines from the area of the Grechetto and Trebbiano vineyards. In the town there are many good restaurants for your lunch.
From Orvieto there is an amazing view of all of Umbria and you can spend your afternoon walking down the beautiful streets and in the squares.
6:00 pm Return to your hotel or accommodation